"Ilooda's Overseas Sales Set to Pick Up Pace Next Year... Will Contribute to Improved Operating Profit"
2021.07.28
신한금융투자는 27일
이루다(16,550 +1.53%)
에 대해 올 하반기 신제품 출시에 따라 해외 매출 성장이 가속화될 것으로 봤다. 이들 제품은 마진이 높은 소모품을 필요로 해, 매출 성장과 더불어 영업이익률 개선에도 기여할 것이란 판단이다. 투자의견과 목표주가는 제시하지 않았다.
이루다
는 레이저(Laser)와 고주파 에너지(RF) 원천 기술을 활용해 피부과 전문 의료기기를 개발 제조 판매한다. 작년 8월 코스닥에 상장했다. 주력 제품은 레이저 장비 '비키니'와 '프락시스', 고주파 장비 '시크릿RF'다. 회사는 지난해 기준 매출 210억원, 영업이익 36억원을 기록했다. 제품별 매출 비중은 고주파 장비 35.4%, 레이저 장비 31.3%, 복합 장비 20.5%, 기타 14.6%다.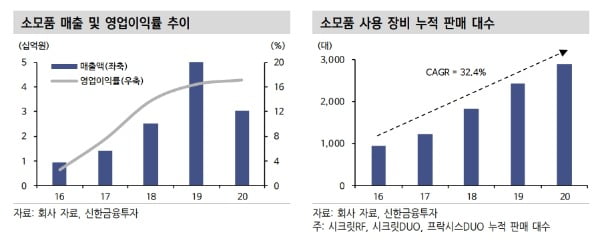 이루다
는 자체 브랜드를 통해 미국 시장에 성공적으로 진출했다. 원재희 연구원은 "
이루다
가 선제적으로 미국 시장에 진입할 수 있었던 배경에는 글로벌 의료기기 전문기업 큐테라(Cutera)가 있다"며 "
이루다
는 큐테라의 글로벌 판매망을 활용해 시장을 확대 중"이라고 설명했다.
회사는 현재 미국 내 큐테라 대리점을 통해 시크릿RF, 시크릿DUO 등을 판매 중이다. 원 연구원은 "향후 미국에서 쌓은 인지도를 바탕으로, 보다 수월하게 기타 해외 시장에 진출할 것"이라고 말했다.
출처 : https://www.hankyung.com/it/article/202107270208i
i

looda develops, manufactures and sells specialist dermatology medical devices using the company's own source technology in lasers and high frequency energy (RF). The company listed on the KOSDAQ in April last year. Ilooda's main products are the 'Vikini' and 'Fraxis' laser equipment and the 'Secret RF' high frequency device. As of last year, Ilooda's sales and operating profit amounted to 21 billion KRW and 3.6 billion KRW, respectively. High frequency equipment accounts for 35.4% of the company's sales, followed by laser equipment with 31.3%, complex equipment with 20.5%, and other products with 14.6%.