Shinhan - Ilooda Can Look Forward to Performance Upside with New Product Release Later This Year
2021.08.30

이루다, 하반기 신제품 출시 실적 업사이드 기대-신한
[이데일리 김연지 기자] 신한금융투자는
이루다(164060)
에 대해 2분기 레이저 및 복합 장비 매출 고성장으로 양호한 실적을 달성했다며 하반기에는 신제품 출시에 따른 추가적인 실적 업사이드가 예상된다고 밝혔다. 투자의견이나 목표주가는 따로 제시하지 않았다. 이루다의 현재 주가는 지난 27일 종가 기준 1만3900원이다.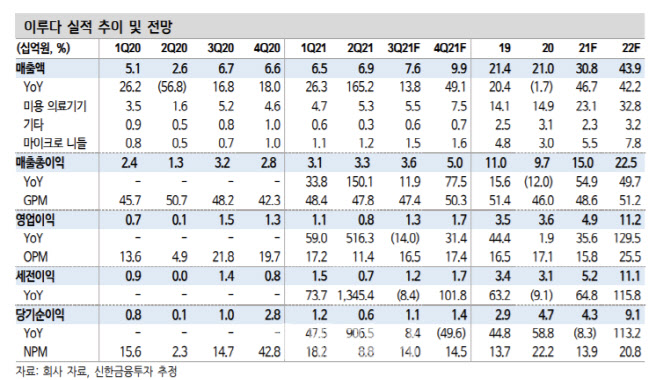 신한금융투자에 따르면 이루다의 2분기 연결 기준 매출액은 69억원, 영업이익은 8억원을 기록했다. 이는 전년 동기 대비 각각 165.2%와 516.3% 증가한 규모다. 특히 장비 매출은 전년 동기 대비 225.4% 증가한 53억원을 기록했다. 신한금융투자는 "레이저 장비와 복합의료기기 등 주력 제품의 글로벌향 매출이 분기 성장을 견인했다"며 "소모품 매출은 12억원으로 전년 대비 160.2% 성장하며 코로나19 팬데믹 여파로부터 벗어나는 모습을 보였다"고 평가했다.
하반기에는 기존 제품의 견조한 매출 성장이 전망된다는 평가다. 원재희 신한금융투자 연구원은 "계절적 성수기가 도래하면서 기존 제품들의 견조한 매출 성장이 예상된다"며 "글로벌 RF 고성장세 지속 및 코로나19 백신 접종 확대에 따른 시술 증대로 마이크로니들과 같은 소모품 매출이 전사 외형 성장에 기여할 것으로 예상한다"고 설명했다.
HIFU 장비 '하이저미(Hyzer me)' 등 신제품 출시에 따른 추가적인 실적 업사이드도 가능할 것으로 봤다. 원 연구원은 "하이저미는 출시 전 단계인 만큼 보수적으로 매출을 추정해왔다"면서도 "지속되는 동남아향 미용 의료기기 수출액 견조세와 증류수 감소 문제 해결 및 통증 저감에 따른 사용자 편의성 개선, 글로벌 HIFU 시술 대중화에 따른 시술 증가 등을 감안했을 때 추가적인 매출 발생 가능성이 있다"고 설명했다.
특허 침해 우려에 대해서는 "인모드의 경우 니들팁 프로텍터 특허는 관련 구성 부재로 인해 침해 가능성이 낮을 것으로 예상된다"며 "초당 왕복운동 특허는 침해가 인정 되더다도 특허 회피설계가 이미 적용돼 특허 침해로 발생할 수 있는 로열티 지급액은 제한적일 것"이라고 봤다. 이어 "2021년 ITC향 자료 제출이 상당 부분 마무리된 상태"라며 "향후 추가적인 소송 비용 발생이 제한적이라는 점을 감안했을 때 이루다의 현 주가는 현저한 저평가 구간"이라고 설명했다.
출처 :
이루다, 하반기 신제품 출시 실적 업사이드 기대-신한 (edaily.co.kr)


[Edaily, correspondent Kim Yeon-ji] Shinhan Investment Corp reported that
Ilooda (164060)
achieved good performance in Q2 thanks to rapid growth in the sales of laser and complex equipment, and forecast further performance upside due to the release of new products in the second half of this year. Shinhan did not release any investment advice or a target share price. Ilooda's end of day stock price stood at 13,900 KRW on the 27th.