ilooda Expanding Business, Making Tangible Move from 'Aesthetics to Specialist Indications'
2021.09.03
확장 나선 이루다, '에스테틱→전문병증' 가시화

안과·치과사업 진출 속도…엔슨 지분 인수로 포트폴리오 확장, B2C 시장 진출
에스테틱 의료기기 전문업체 '이루다'가 실적 개선세를 바탕으로 사업 확장에 분주하다. 에너지를 활용한 치료기기 원천기술을 기반으로 피부과 외 타병과 진출을 가시화하고 있다. 그동안 협업 관계였던 엔슨 지분도 일부 인수하면서 제품 라인업도 확대했다. 아울러 개인 의료기기 관련 제품 개발에도 힘을 쏟으면서 기존 B2B(기업 간 거래)에서 B2C(기업과 소비자 간 거래) 시장으로 발을 넓히고 있다.
지난해 코스닥 시장에 상장한 이루다는 레이저(Laser)와 고주파(RF), 집속초음파(HIFU) 등 에너지 기반 기술을 활용해 피부과 전문 의료기기를 제조 판매한다. 이 같은 기술을 기반으로 국내외 다양한 제품을 출시하며 성장했다. 주력 제품은 레이저 장비 '비키니'와 '프락시스', 고주파 장비 '시크릿RF' 등을 꼽을 수 있다. 제품별 매출 비중은 고주파 장비 35.4%, 레이저 장비 31.3%, 복합 장비 20.5%, 기타 14.6% 순으로 이어진다.
그동안 메디컬 에스테틱 제품을 중심으로 성장했다면 본격적으로 전문병증 치료를 위한 제품으로 방향을 잡았다. 전문성을 강화하기 위해 기존 레이저, 고주파를 활용한 의료기기 라인업도 늘리고 있다. 여기에 개인용 의료기기를 개발해 B2B에서 B2C 시장으로 확장을 꾀하고 있다.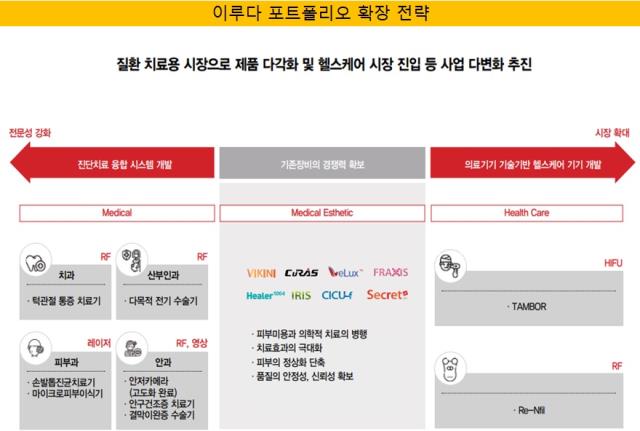 이 같은 확장의 배경에는 원천기술에 대한 자신감이 깔려있다. 이루다는 각종 의료기기 인·허가와 임상 전문인력 육성 등 기술 역량을 강화하기 위해 투자를 진행했다. 특히 기술연구소와 별도로 의공학연구소를 갖추고 있다. 이를 통해 미국 식품의약국(FDA) 인증 7개 품목과 14개 국가의 인·허가를 보유하고 있다.
기술 경쟁력을 활용해 안과와 치과 등 타병과로 사업을 확장하고 있다. 지난해부터 안저카메라를 비롯해 고주파 전기수술기인 아큐트론(ACUTRON), 벨로체(VELOCE) 품목을 순차적으로 허가, 출시를 완료했다.
아큐트론은 미세조직 시술에 최적화된 장비로 최근 일본 의약품의료기기종합기구(PMDA)의 의료기기 승인을 기다리고 있다. 이 밖에 치과용 턱관절 통증 치료기, 산부인과용 다목적 전기 수술기, 피부과용 손발톱진균 치료기 등도 개발했다.
올해 상반기 엔슨 지분 인수도 이 같은 차원에서 추진했다. 이루다는 지난 4월 39억원을 투입해 엔슨 주식 24만주(지분율 41.38%)를 취득했다. 엔슨은 피부미용 의료기기 전문업체로 당초 이루다가 개발하려고 했던 롱펄스엔디야그와 IPL(intense pulsed light) 장비 라인업을 확보하고 있다. 그동안 이루다가 엔슨의 의료기기 유통·판매를 대행했는데 이번에 지분 관계를 구축하면서 더욱 긴밀한 관계를 구축했다.
여기에 B2C 시장 진출 차원에서 기존 의료기기의 원천기술을 활용해 개인용 HIFU 기기와 개인용 고주파 기기도 개발하며 헬스케어 시장에 진입하고 있다. 이와 관련 올해 하반기 집속초음파 장비 '하이저(주름개선)'를 출시할 예정이다.
이루다 관계자는 "엔슨의 지분 인수는 신규 장비를 개발하기 위한 시간과 비용을 절감하고, 신규 제품을 포트폴리오로 추가해 피부미용 분야에서 사용되는 제품의 전체 라인업을 구축하는 계기가 됐다"면서 "향후 당사와 엔슨의 기술결합을 통해 신제품을 개발해 시장에 선보일 계획"이라고 설명했다.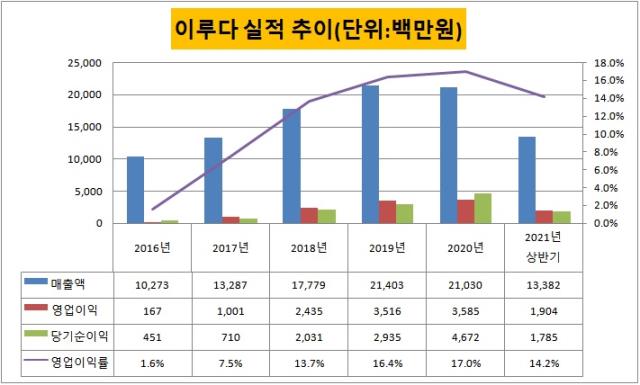 한편 이루다는 코로나19에도 불구하고 올해 상반기까지 견조한 실적을 유지하면서 확장을 순조롭게 이끌었다. 그동안 수출 비중이 높았던 만큼 타격이 예상됐지만 기술 경쟁력을 앞세워 국내 시장에 활발한 영업을 펼쳐 부족분을 커버한 것이다. 올해 상반기 개별기준 매출액은 전년 동기대비 73.1% 증가한 134억원을 기록했다. 같은 기간 영업이익과 당기순이익은 각각 134.6%, 106.7% 늘어난 19억원, 18억원으로 집계됐다. 영업이익률도 10.5%에서 14.2%로 상승했다.
출처 :
더벨 - 국내 최고 자본시장(Capital Markets) 미디어 (thebell.co.kr)
Specialist aesthetic medical device company Ilooda is expanding its business based on continued improvement in performance. The company is making a tangible move from dermatological diseases into the treatment of other conditions by leveraging its source technology in energy-based medical devices. Ilooda has also expanded its product lineup by acquiring a stake in Enseun, which has been a collaborative partner of the firm until now. In addition, Ilooda is broadening the scope of its business from the B2B (business to business) to B2C (business to consumer) market by endeavoring to develop products related to personal medical devices.